Hi, I'm Steve DeBono & I Help Dog Shelters, Rescues, & Pet Care Organizations Just Like Yours.
If your shelter or rescue is struggling with "long-stay" dogs or challenges related to dogs with behavior issues, I'm your guy!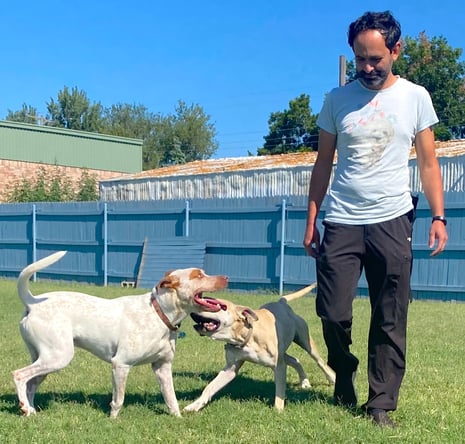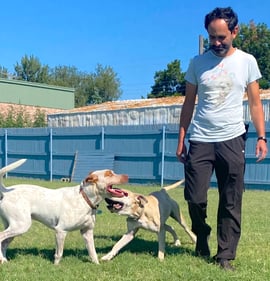 Elevate the social experience of your dog population with our Nose-to-Nose workshops, focusing on dog-dog introductions, interactions, and playgroups. Whether you're building a program from scratch or enhancing an existing one, these custom workshops are your essential guide. Join us to ensure every dog, especially long-stay ones with behavior challenges, benefits from enriching playgroups, enhancing their adoptability and well-being.
Empower your shelter or rescue to break down barriers for "long-stay" dogs often overlooked by adopters. In my Busting Barriers workshops, you'll learn the 5 Potential Barriers to Adoption and gain actionable insights to identify and overcome them, leading to faster and safer outcomes for your harder-to-place dogs.




All of my workshops are uniquely tailored to your organization's needs, budget, and available resources, creating effective solutions within your constraints.
Lets discuss your needs and how I might be able to help during a free 30 min Virtual Consult!
Some Nice Things Other People Have Said
"Steve DeBono has extensive experience working with owners and with shelters and rescues to help dogs whose behavior poses a challenge. He can help with a consultation about an individual dog, or with setting up a behavior modification and management program for a shelter or rescue."
- Eileen McFall
Founder, Final Frontier Rescue Project
"In the time I have spent with Steve, he has unfailingly impressed me with his intense focus on animals and their behavior. His observation skills are sharp, constantly honed, all serving his deep curiosity about animals. Able to grasp both the practical and the theoretical, Steve is a careful and critical thinker who evaluates new information and integrates it thoughtfully into his own approach. Above all, I consider him to be a true "animal person" who I believe will make significant contributions to the field of animal behavior in the years to come."
- Suzanne Clothier
Instructor, Dog Trainer, Author